Landini agricultural products have been widely appreciated in many countries. Landini has a long history of tradition, experience, reliability and performance backed by superb service.
On the local scene Landini has become increasingly competitive by forging ahead with great determination. Thought product support, customer confidence and supported by a modernized and expanded product range, Landini has become a major player in the local market with an ever increasing market share.
Since 2000 Landini has consolidated a technical know-how and industrial and commercial cooperation network with highly prestigious partners such as McCormick, Laverda, Gallignani e Fella.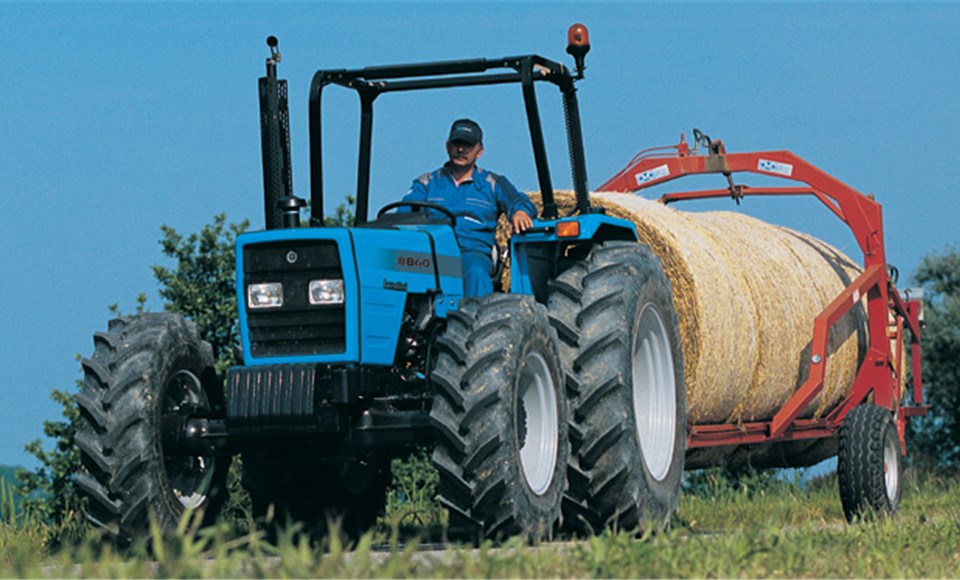 Two modular transmission options
The modular transmission is available in two version. The base transmission offers 12FWD+12REV speeds and can be integrated with a creep speed option to provide a total of 24FWD+12REV gears.
The centrally-located reverse power shuttle lever allows reversing all gears and engaging the creep speed option.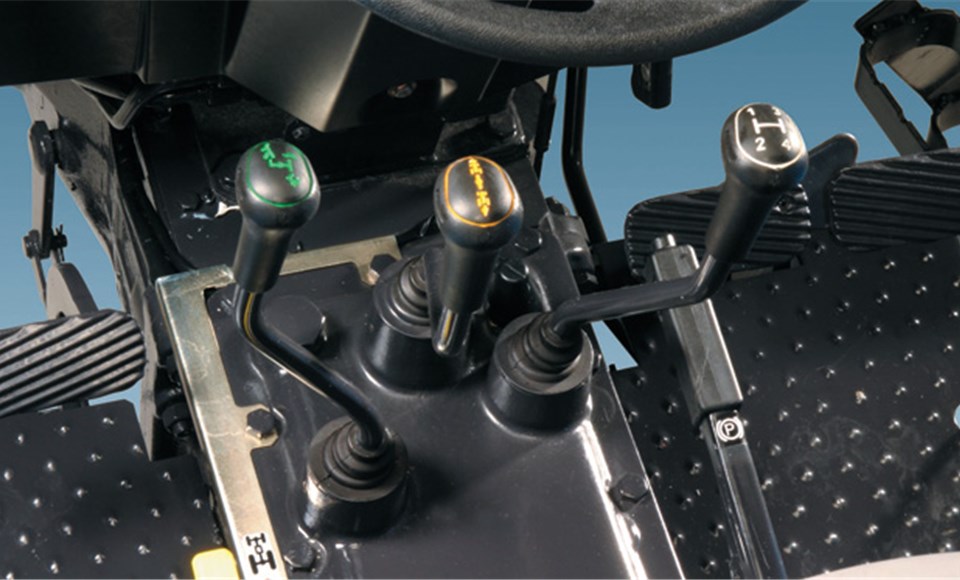 New Perkins 1100A series engines
The 60 Series tractors (6870 and 8860 models) are equipped with the new Perkins 1104A 4-cylinder engines.
The new engines deliver 73.5 and 83.6 HP (ISO) respectively, while offering high torque backup, improved fuel economy, low noise and reduced emissions.
The forward tilting hood provides easy access to the engine for routine service and maintenance.
| | | |
| --- | --- | --- |
| | 7865 | 8865 |
| Engine / Cylinders | Perkins / 4 | Perkins / 4 |
| Output ISO kW | 54,5 kW | 60 kW |
| max. torque lb. (Nm) @ rpm | 290 @ 1400 | 292 @ 1400 |
| Driving Wheels | 2 or 4 | 2 or 4 |
| Transmission | 12 Fwd + 12 Rev + Shuttle | 12 Fwd + 12 Rev + Shuttle |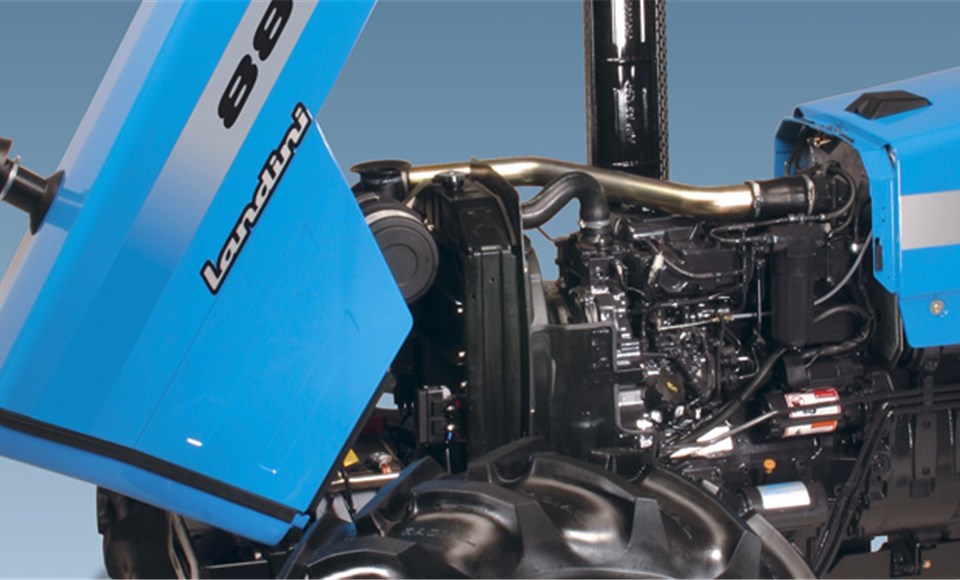 Ample and comfortable driver's seat
With fully adjustable sprung seat, hydraulic steering and ergonomically-arranged controls, the driver's seat allows the operator to work with maximum comfort. The four-post ROPS can be optionally equipped with a sun canopy. A cab with heating and ventilation is also available as an option.
Powerful hydraulics for power lift and auxiliary valves
The hydraulic system provides a maximum total flow of GPM 20,2 (76.5 l/min).
Equipped with Cat. 2 three-point linkage, the mechanical power lift provides position, draft, intermix and float control functions while ensuring a maximum lifting capacity of lb. 8140 (3700 kg). The 60 Series tractors features one standard and two optional simple- and double-acting auxiliary valves.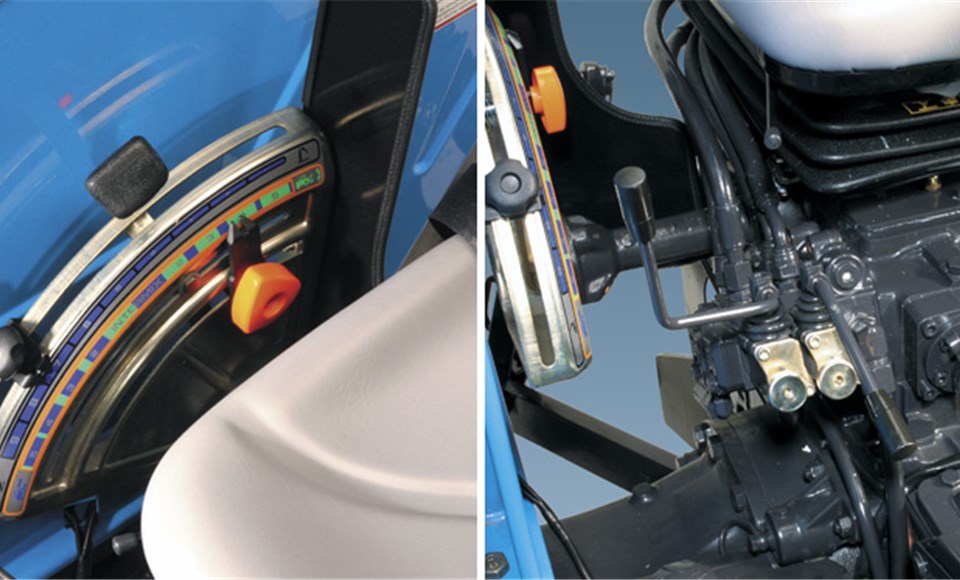 | | | |
| --- | --- | --- |
| | 7865 | 8865 |
| rear tyres 4WD | 18,4 - 30 | 18,4 - 30 |
| A total length without ballast in. (mm) | 150 (3810) | 150 (3810) |
| B minimum width in. (mm) | 73,6 (1870) | 73,6 (1870) |
| C wheelbase 2WD/4WD in. (mm) | 92,1 / 91,2 (2340 / 2316) | 92,1 / 91,2 (2340 / 2316) |
| D height at steering wheel in. (mm) | 67,7 (1720) | 67,7 (1720) |
| E max ground clearance 4WD in. (mm) | 17 (430) | 17 (430) |
| F height to safety frame in. (mm) | 102 (2590) | 102 (2590) |
| F height at top of cab in. (mm) | 102 (2590) | 102 (2590) |
| weight (without ballast) 4WD lb. (Kg) | 6923 (3147) | 6923 (3147) |