NEW 5H SERIES, TECHNOLOGICAL EVOLUTION
Landini agricultural products have been widely appreciated in many countries. Landini has a long history of tradition, experience, reliability and performance backed by superb service.
On the local scene Landini has become increasingly competitive by forging ahead with great determination. Thought product support, customer confidence and supported by a modernized and expanded product range, Landini has become a major player in the local market with an ever increasing market share.
Since 2000 Landini has consolidated a technical know-how and industrial and commercial cooperation network with highly prestigious partners such as McCormick, Laverda, Gallignani e Fella.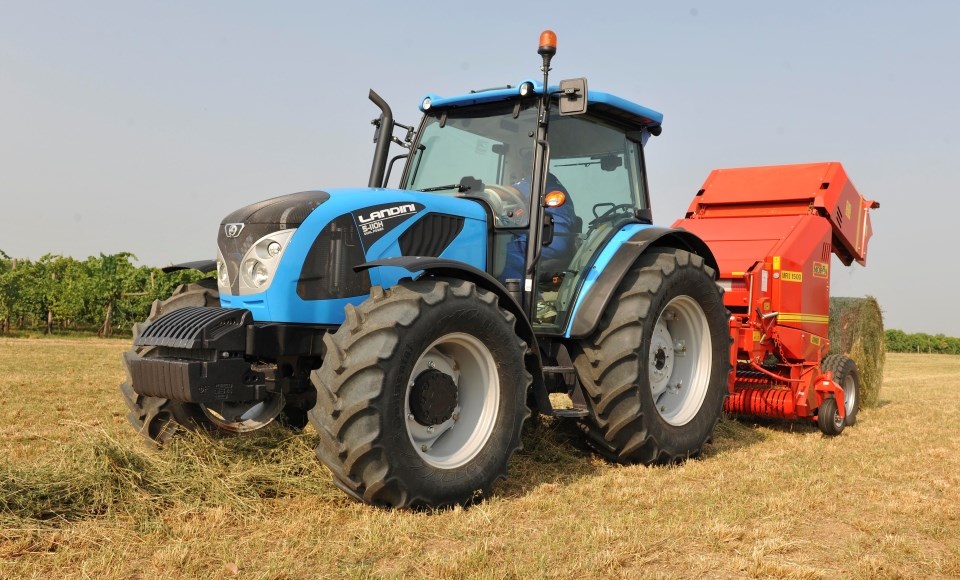 T-TRONIC HYDRAULIC TRANSMISSION
The TOP version features a basic gearbox (speed four) with 4 speeds and 3 ranges, (controlled by the green pushbuttons integrated in the gearshift lever) , which, in conjunction with the T-Tronic module (3 Powershift H-M-L ranges under load) and the reverse shuttle provides 36 forward and 12 reverse speeds. A creeper is available as an option extending the flexibility to 48 FWD and 16REV speeds.
The DE-CLUTCH CONTROL (orange pushbutton integrated in the gearshift lever) and the REVERSE POWER SHUTTLE (hydraulic reverse shuttle with lever integrated in the steering column) allow the operator to change gear and shift from forward to reverse without using the clutch pedal.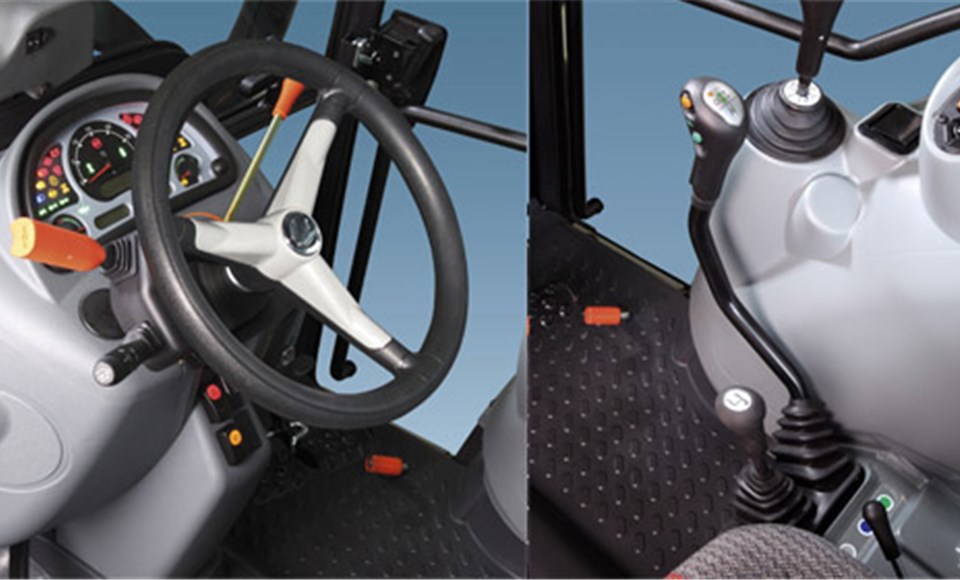 "TOTAL VIEW" CAB FOR ALL-ROUND VISIBILITY AND COMFORT
The most outstanding feature of the 5H series tractors cab is the all-round visibility of the "total view" cab provided by the all-glass side doors hinged onto the rear post.
The interiors, stylish and accurate, have been executed by making large use of the composite materials of modern automotive design. All controls are arranged in a comfortable and intuitive position, according to current ergonomic standards.
The heating/ventilation and air-conditioning system is installed on the cab roof with considerable benefits for the driver in terms of comfort, safety and health.
The ventilation system is integrated by two filters designed to purify the air inside the cab. The roof features a fixed glazed hatch with sunshade, particularly useful when working with front loaders, and four lights providing great visibility during night work.
Natural ventilation is ensured by the openable front and rear windscreens.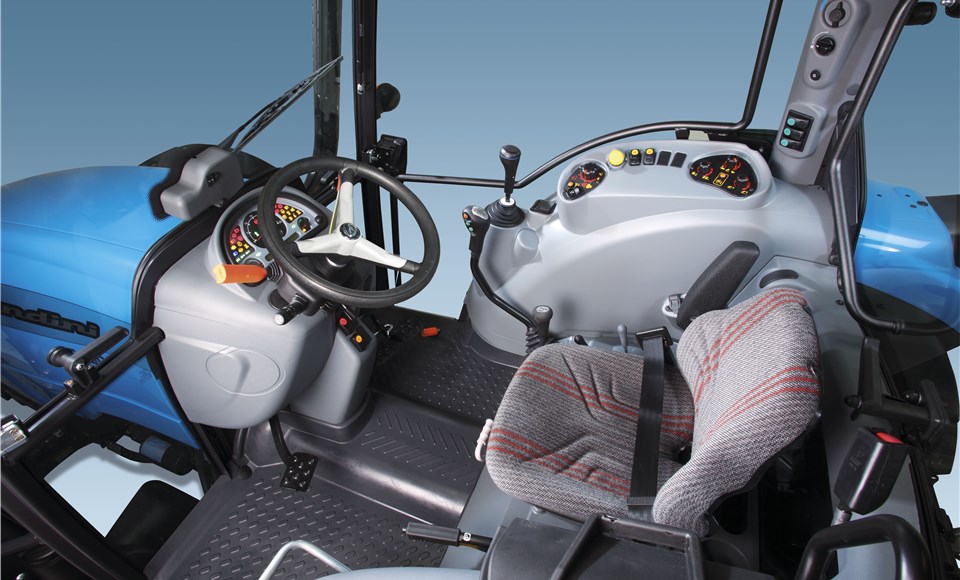 HIGH-PERFORMANCE HYDRAULIC CIRCUIT AND VERSATILITY OF AUXILIARY SPOOL VALVES
The new hydraulic circuit provides a maximum total flow of 82 l/min. The system features up to 4 auxiliary spool valves with lever controls integrated in the console at the driver's right-hand side. . Two of them are controlled by joystick (1) for front loader operations, while the other two are operated by a standard lever (2) ensuring this range an extra versatility and productivity when working with farm implements.
5-100 H
5-110 H
A Height Over cab
[in. / mm]
101 / 2563
101 / 2563
B wheelbase 2RM / 4RM
[in. / mm]
93 / 92
2365 / 2340
93 / 92
2365 / 2340

C max length
(with ballast weights) [in. / mm]

163,8 / 4160
163,8 / 4160
D ground clearance
[in. / mm]
18,5 / 475
18,5 / 475
E min. width
[in. / mm]
82 / 2095
82 / 2095
Total weight
(without ballast)
(+ cab 440 Lb / 200 Kg)
[Lb / kg]
8030 / 3650
8030 / 3650