The new LandPower tractor has been redesigned with the adoption of the new F.P.T. Tier 3 engines and of an electronically-controlled transmission, making it ideal for all open-field applications as well as for high-speed road transport.
All models are powered with the new F.P.T. NEF 2V 6-cylinder turbo engines. Equipped with air-to air intercooler, the new engines meet the Tier 3 emission regulations and deliver up to 157 HP, providing exceptional torque and power levels.
The LandPower tractors have two different transmissions: the Speed Six, a completely mechanical transmission specially designed for the Techno and the electronically-controlled Top-Tronic
transmission with Declutch Control and Reverse Power Shuttle for the Comfort.
The hydraulics feature five BOSCH auxiliary valves and the front axle can be optionally supplied with L.S.A hydraulic suspensions.
The cab provides a comfortable driving position with ergonomically-arranged controls. The air-conditioning, installed on the cab roof, ensures the driver a safe and healthy work environment.
The plunging line of the hood, in keeping with the Landini Family Style, and the large glass area of the cab provide total visibility enhancing manoeuvrability and driving comfort.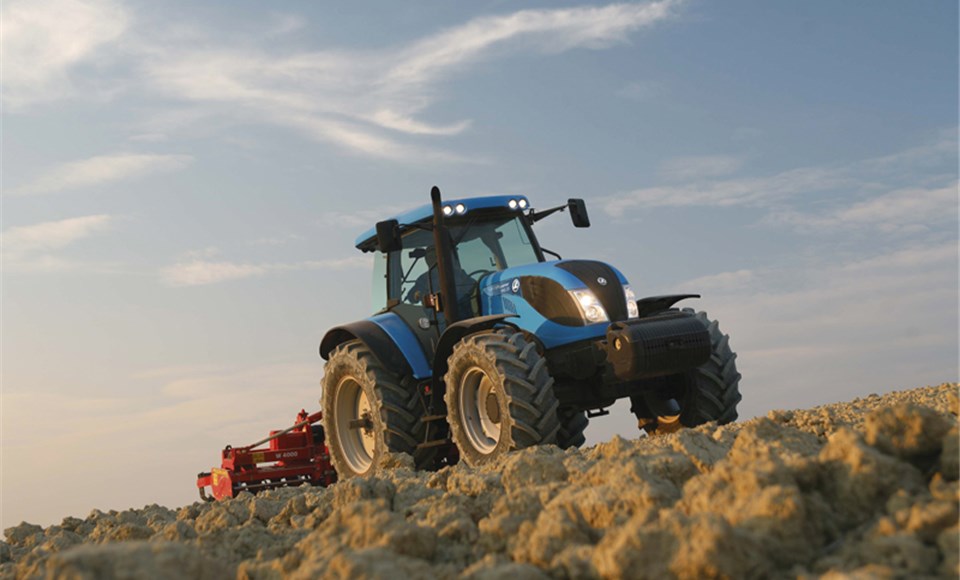 LANDPOWER
T3 125 CAB
LANDPOWER
T3 135 CAB
LANDPOWER
T3 145 CAB
LANDPOWER
T3 165 CAB
Engine
Beta - Power 2
Value Mechanical Fuel Injection
Beta - Power 2
Value Mechanical Fuel Injection
Beta - Power 2
Value Mechanical Fuel Injection
Beta - Power 2
Value Mechanical Fuel Injection
Cylinders
6
6
6
6
Output kW
86 kW
98 kW
104 kW
116 kW
Max Torque (Nm) @ rpm
515 @ 1 250
590 @ 1 250
625 @ 1 250
691 @ 1250
Driving Wheels
4
4
4
4
Transmission basic GB + Shuttle and Creeper
36 Fwd + 36 Rev
36 Fwd + 36 Rev
-
-
Power-Six + Shuttle + Creeper
-
-
72 Fwd + 72 Rev
72 Fwd + 72 Rev
Only Cab with Air Conditioning