Landini agricultural products have been widely appreciated in many countries. Landini has a long history of tradition, experience, reliability and performance backed by superb service.
On the local scene Landini has become increasingly competitive by forging ahead with great determination. Thought product support, customer confidence and supported by a modernized and expanded product range, Landini has become a major player in the local market with an ever increasing market share.
Since 2000 Landini has consolidated a technical know-how and industrial and commercial cooperation network with highly prestigious partners such as McCormick, Laverda, Gallignani e Fella.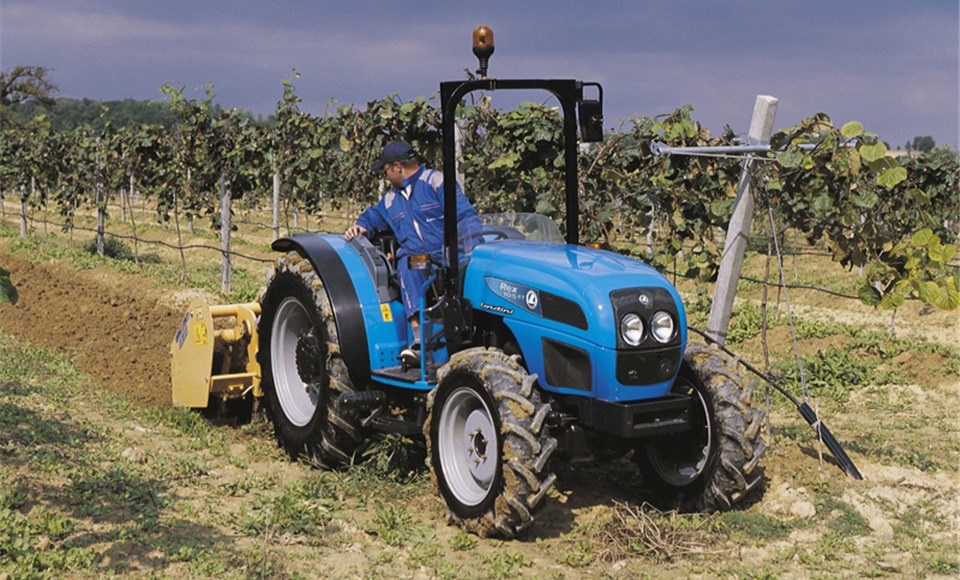 REX 60 (T2)

REX 75 (T2)

REX 80 (T3)

REX 85 (T2)

REX 85 (T3)
REX 90 (T3)
Engine / Cylinders
1103 Perkins
1104 Perkins
1104 Perkins
Output kW
43
51
60
max. torque (Nm) @ rpm
222 @ 1 400
273 @ 1 400
292 @ 1 400
Driving Wheels
2 or 4
2 or 4
2 or 4
Transmission

12 Fwd + 12 Rev
Plus shuttle
3 Range with 4
Synchronised gears
Creeper optional


12 Fwd + 12 Rev
Plus shuttle
3 Range with 4
Synchronised gears
Creeper optional


12 Fwd + 12 Rev
Plus shuttle
3 Range with 4
Synchronised gears
Creeper optional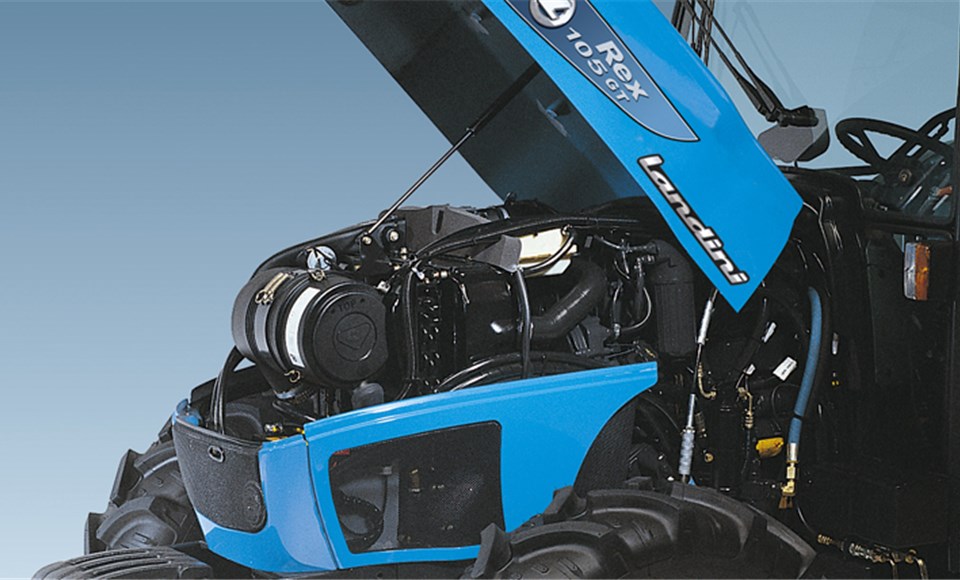 Power Five transmission (40FWD+40REV) with De-Clutch Control and Reverse Power Shuttle.
The Power Five transmission (splitter gear with HI-LO electrohydraulic engagement for 20% speed reduction) enables the number of gears of the basic transmission to be doubled using the green pushbutton integrated in the gear lever.
Power Five + Speed Five (basic transmission) + Creeper + Reverse Power Shuttle for a total number of 40FWD+ 40REV speeds. The De-clutch Control (orange pushbutton integrated in the gear lever) and the Reverse Power Shuttle (lever applied to the steering wheel), enable clutchless engagement and reversal of all gears.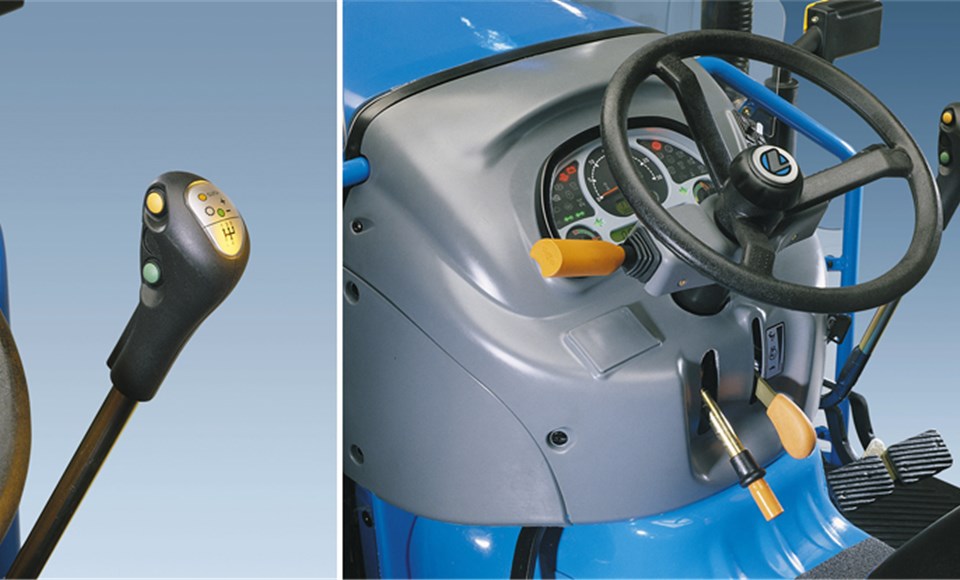 Driving seat mounted on suspended platform for enhanced comfort
The driving seat is mounted on an ample and comfortable suspended platform and equipped with ergonomically arranged controls.
The adjustable seat, the hydraulic steering and the height adjustable steering wheel further improve the comfort.
The foldable two-post ROPS makes the work in low orchards easier.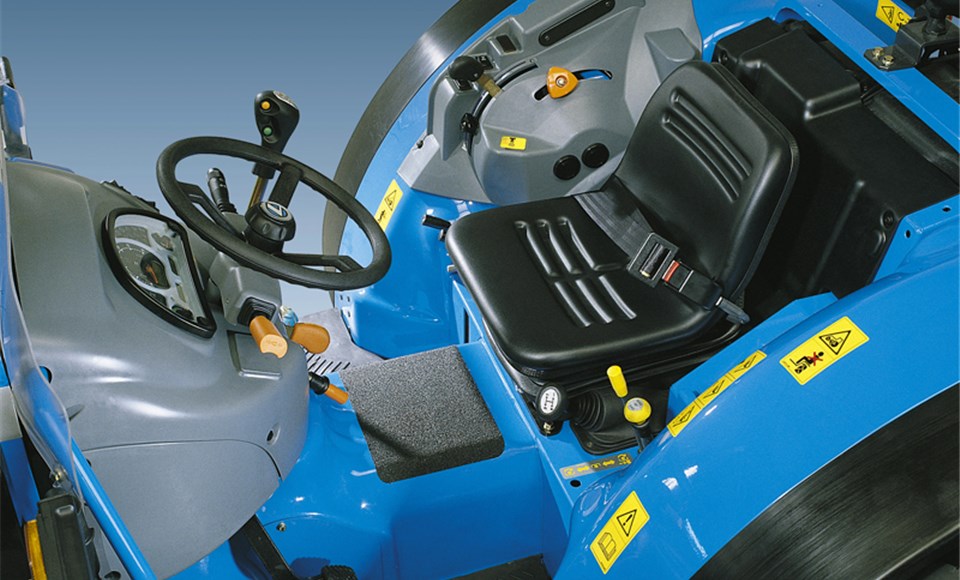 High-performance hydraulics and auxiliary valve versatility
The hydraulic system with double pump provides a maximum total flow of 21.6 GPM (82 l/min). The system features simple- and double-acting auxiliary valves, including a floating one. The valves available are 2 for the F and GE models and 3 for the GT model.
A button-operated three-position flow selector can be optionally fitted on the console to alternately activate an auxiliary valve, the right lifting rod or the top link using the lever of one of the auxiliary valves.
As an alternative, a triple pump with 3 front auxiliary valves controlled by a joystick can be fitted on request to operate front implements.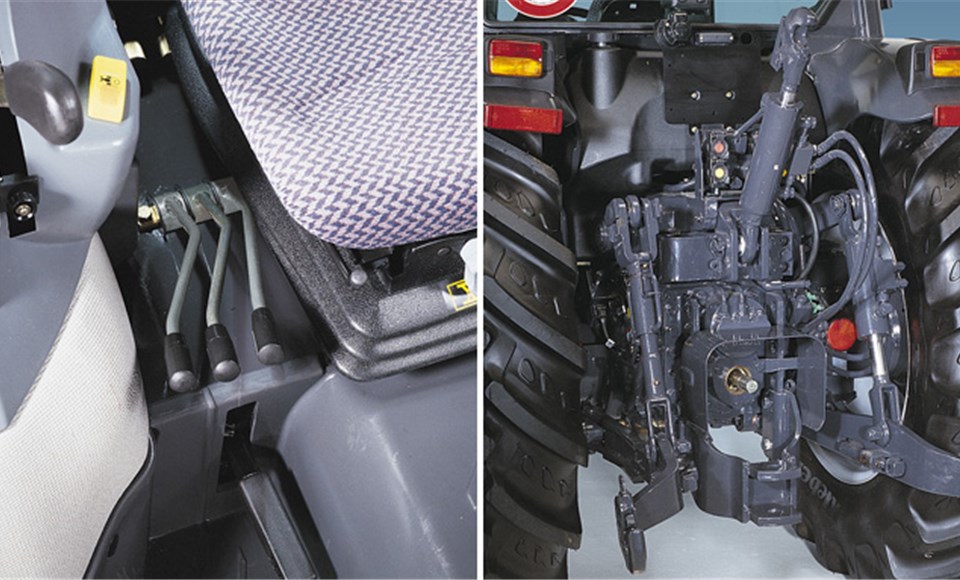 Weights and dimensions
REX 80
REX 90
(in running order)
F
GE
GT
F
GE
GT
with tyres
14.9R24
14.9LR20
14.9R24
14.9R24
14.9LR20
14.9R28
A length 2WD/4WD, in
157.8
157.8
157.8
157.8
157.8
157.8
B min. width, in
51.9
56.5
58.2
51.9
56.5
57.7
C wheelbase 2WD, in
85.6
-
-
85.6
-
-
C wheelbase 4WD, in
84
84
84
84
84
84
D height to steering wheel, in
57
51
57
57
51
59
E ground clearance, in
10,5
9
10,5
10,5
9
12
F height to ROPS, in
86
84.6
90
86
84.6
92
weight 2WD, lb
5753
-
-
5753
-
-
weight 4WD, lb
6259
5588
6303
6259
5588
6303
Weights and dimensions
REX 100
REX 105
(in running order)
F
GE
GT
F
GE
GT
with tyres
14.9R24
14.9LR20
14.9R24
14.9R24
14.9LR20
14.9R24
A length 2WD/4WD, in
157.8
157.8
157.8
157.8
157.8
157.8
B min. width, in
51.9
56.5
58.2
51.9
56.5
58.2
C wheelbase 2WD, in
85.6
-
-
-
-
-
C wheelbase 4WD, in
84
84
84
84
84
84
D height to steering wheel, in
57
51
57
57
51
57
E ground clearance, in
10,5
9
10,5
10,5
9
10,5
F height to ROPS, in
86
84.6
90
86
84.6
90
weight 2WD, lb
5753
-
-
5753
-
-
weight 4WD, lb
6259
5588
6303
6259
5588

6303